SOSINA Exploration Ltd.
SOSINA aims to identify po­ten­tial oil and gas ac­cu­mu­la­tions in co-ope­ra­tion with part­ners with­in the oil/gas indu­stry.

SOSINA at­tempts to use high-tech met­hods in seis­mic reser­voir cha­ra­cte­ri­za­tion to re­du­ce un­cer­ta­in­ty in ex­plo­ra­tion and ap­prai­sal.

This re­duc­tion un­locks new plays and al­lows the de­ve­lop­ment of pre­vi­ously mar­gin­al dis­cove­ries.
---
9 June 2017

Total signs farm-in agreement for LO 19/27 securing a 50% working interest and operatorship against carry for operational costs and contingent promoted carry for the first exploration well

Cairn signs option agreement for LO 19/27 securing an option over 20% working interest
---
9 June 2017

SOSINA and Providence Resources grants Total an exclusive option over FEL 2/14

The option comprises the right for Total to farm-in to a 35% interest against a phased payment of 27 million USD
---
7 April 2017

3D seismic data acquisition on Dunquin South is expected soon to commence

The seismic vessel CGG Oceanic Caspian will for SOSINA and our partners conduct the acquisition programme.
---
14 March 2017

Cairn farms-in at Druid & Drombeg (FEL 2/14)

Cairn secures a 30% working interest. The SOSINA part changes from 20% to 14%.
---
24 November 2016

Contract signed for the Stena IceMAX drill-ship

The planned spud date at the FEL Licence 2/14 for the 53/6-A exploration well is June 2017.
---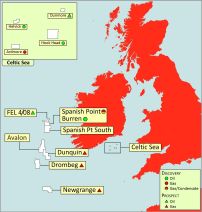 Our Licences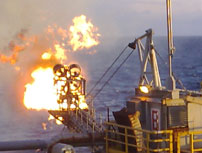 Flare from the Hook Head well drilled in September 2007
Subscribe to news releases
E-mail: