« Back
SOSINA awarded three licensing options in the 2011 Irish Atlantic Margin Round
21 October 2011
The announcement was made on Monday 17 October 2011 by the Minister for Communications, Energy and Natural Resources, Mr Pat Rabbitte, TD at the Atlantic Ireland Conference in Dublin
These Licensing Options have an initial two year term after which they may be converted into Frontier Exploration Licences, which have a 15 year term.  SOSINA Exploration Limited's partners in the new acreage include both existing co-venturers, such as Chrysaor E&P Ireland Ltd ("Chrysaor") and Providence Resources P.l.c. ("Providence"), as well as Repsol Exploration Irlanda S A ("Repsol") as new entrant. Providence will operate the licensing options in all three areas which cover c. 4,700 sq km and range in water depth from c. 300 m to 2,500 m.
Details of the Licensing options are as follows:
Licence Option No. 
11/11 
11/9 
11/2
Basin
Goban Spur
South Porcupine
Main Porcupine
Licence Name
Newgrange
Drombeg
Spanish Point South
No. of Blocks/Part Blocks
8
6 
6
Partners (Equity %)

Providence (40 %)

Repsol (40 %)

SOSINA (20 %)

Providence (80 %)

SOSINA (20 %)

Providence (32 %)

Chrysaor (58 %)

SOSINA (10 %)

Operator
Providence
Providence
Providence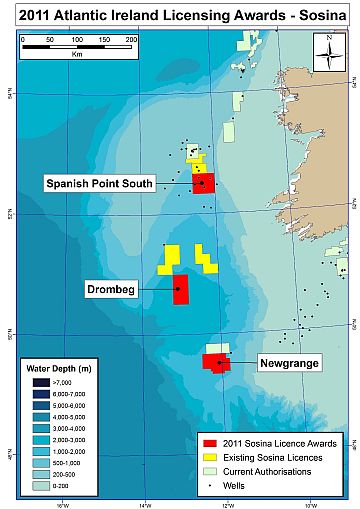 SOSINA concession map showing the
recently awarded 2011 licences.
Contacts:
 
 

Dr. David J. Davies

Managing Director, CEO

SOSINA Exploration Ltd

1 Berry St

Aberdeen AB25 1HF

Tel: +44 01224 845472
Mob: +44 7703 293 649

 

Mr. John Ødegaard,

Chairman of the Board

Tel: +45 35 31 10 03

Mobile: +45 27 26 00 03
« Back