« Back
Nautical Petroleum farms into the Nemo oil discovery
28 September 2010
SOSINA announces that Nautical Petroleum, and the Celtic Sea partners (Providence, Atlantic Petroleum and SOSINA) have reached a farmin agreement, with Nautical taking an initial 25% stake in return for studies leading to an appraisal of development feasibility. Nautical will also have the option to extend their stake to 65% by drilling an appraisal well by the end of 2011.
The Nemo heavy oil accumulation underlies the Ardmore gas field in Standard Exploration License 2/07 and is situated some 60 kilometres offshore Ireland in the North Celtic Sea Basin in 90 metres water depth. Discovered in 1974, this 16o API heavy oil accumulation is estimated to have an in-place resource potential of up to c. 230 MMBO.
In return for an initial 25% stake, Nautical will fund and carry out a focused work programme on the development feasibility of the Nemo discovery. Nautical has an option to increase its stake to 65% and assume operatorship should it elect by the end of 2011 to drill an appraisal well on Nemo. Nautical is currently involved in a number of similar heavy oil field developments in the UK North Sea including the Kraken discovery, which it operates, and Mariner, which is operated by Statoil. In addition, Nautical recently farmed into the Baltimore heavy oil discovery in nearby block 48/19(p) where a development feasibility study is underway.

SOSINA currently holds a 9.2% interest in Nemo with partners Atlantic Petroleum (18.3%) and operator Providence Resources (72.5%) interest. In the event that Nautical exercises its option and drills a well, the participating interests would be Nautical (65%), Providence (25.3%), Atlantic Petroleum (6.4%) and SOSINA Exploration (3.2%). The farm-out transaction is subject to Irish governmental approval.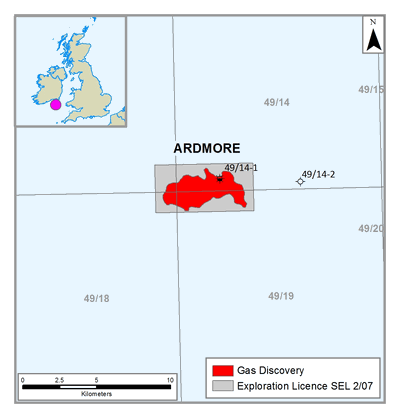 The Nemo heavy oil accumulation underlies the Ardmore gas field
Contacts:

Dr. David J. Davies

Managing Director, CEO

Sosina Exploration Ltd

1 Berry St

Aberdeen AB25 1HF

Tel: +44 01224 845472
Mob: +44 (0)7703 293 649

Mr. John Ødegaard,

Chairman of the Board

Tel: +45 35 31 10 03

Mobile: +45 27 26 00 03
About Nemo
The Nemo heavy oil accumulation underlies the Ardmore gas field and was drilled by Marathon Oil in 1974 on a Lower Cretaceous structure on trend with the Kinsale Head gas field. The well encountered a number of stacked oil and gas bearing reservoir sands of Lower Cretaceous age which are similar to those producing at the nearby Kinsale Head field. Drill stem testing flowed gas at a cumulative rate of c. 8 MMSCFGD whilst the oil recovered was a heavy crude (c. 16o API). Providence recently acquired a pseudo 3D seismic survey over the area has carried out an initial evaluation of the resource potential of the Nemo discovery which suggests an in-place resource potential of up to c. 230 MMBO.
About Heavy/Unconventional Oil
Heavy oil is crude oil which does not flow easily as its density or specific gravity is higher than that of light/conventional oils. Heavy crude oil is defined as any liquid petroleum with an API gravity of less than 20° which is mostly the result of the oil being derived from an early mature source rock or else due to subsequent effects of bacteria, water or air on light oil which result in the loss of the lighter fractions. Heavy oil has received renewed interest due to the recent increases in oil price as it provides a potential significant source of new global oil reserves.

About Nautical Petroleum
Nautical Petroleum plc is developing significant heavy oil resources in the United Kingdom Continental Shelf (UKCS) and in Europe. They operate the Kraken discovery and hold a 35% interest. They are also a 26.67% partner in the Statoil operated Mariner discovery. In addition, they hold significant equity interests in number of exploration and appraisal blocks in the UKCS and France. Their aim is to secure further heavy oil discoveries in the UKCS and EU through acquisitions, farm-ins and licensing rounds. More information on Nautical can be found on www.nauticalpetroleum.com.
« Back