« Back
New 3D seismic and integrated studies advance Spanish Point discovery towards commercial development
17 November 2010
The partnership commences planning for an appraisal programme. The results of the study suggest peak production rates over 70,000 BOEPD, and an in-place resource potential of up to c. 510 MMBOE with 200 MMBOE recoverable
SOSINA and its two partners Chrysaor and Providence are pleased to to provide a status update on its Spanish Point Project, which is located in Frontier Exploration Licence (FEL) 2/04 in the Main Porcupine Basin, offshore western Ireland. The Spanish Point discovery, which was originally made by Phillips Petroleum in 1981, is located in c. 400 metre water depth and is c. 170 km off the west coast of Ireland. Providence operates FEL 2/04 (56%) with partners Chrysaor E&P Ireland Limited (30%) and SOSINA Exploration Limited (14%).

The Spanish Point partners have recently completed interpretation of the 3D seismic data acquired in
2009 and incorporated this into a comprehensive technical assessment of the discovery. Additional
analysis has been undertaken on core obtained from the original discovery well but only available to
the partnership in 2009. The results from new core-based goniometric, capillary pressure and rock
mechanics studies together with hydraulic fracture modelling and new fluid compositional modelling
have also been fed into the assessment. The programme was carried out by Chrysaor on behalf of
the partnership and included structural, static & dynamic modelling, integrated probabilistic modelling,
development concept evaluation and economics. On the basis of this work, the partnership has
concluded that successful appraisal of the Spanish Point discovery will likely result in a commercial
development.

The partners have focused on two volumetric scenarios which indicate an in place resource which
ranges from c. 200-510 MMBOE with c. 100-200 MMBOE recoverable respectively. Field development
would require between 6 and 14 horizontal fracture stimulated production wells depending on the
final resource base. Most likely peak field production in all volumetric cases would be c. 250
MMSCFD & 30,000 BOPD (72,000 BOEPD).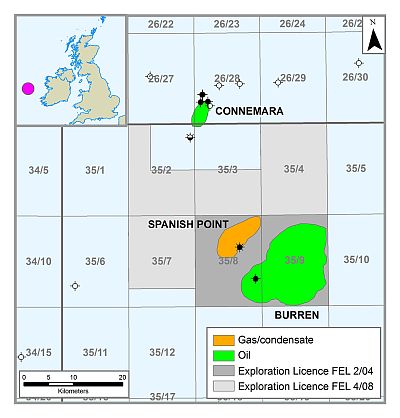 The Spanish Point discovery lies in the Main Porcupine Basin west of Ireland on 400 metre water depth.
Contacts:

Dr. David J. Davies

Managing Director, CEO

Sosina Exploration Ltd

1 Berry St

Aberdeen AB25 1HF

Tel: +44 01224 845472
Mob: +44 (0)7703 293 649

Mr. John Ødegaard,

Chairman of the Board

Tel: +45 35 31 10 03

Mobile: +45 27 26 00 03

About the Spanish Point discovery
The Spanish Point gas condensate discovery was made by Philips Petroleum in 1981 with the drilling of the 35/8-2 well. Oil and gas were found in Upper Jurassic Volgian sands with one zone flowing at c. 5 MMSCFD and c. 1000 BOPD (c. 1800 BOEPD). The discovery was not appraised due to lack of gas infrastructure and market in Ireland at the time. In 2004, Providence/SOSINA licenced the discovery and following in depth subsurface and pre-development studies, Chrysaor farmed in during 2008 by agreeing to fund a c. 300 sq km 3D seismic survey which was acquired in 2009.
Announcement
Definitions in this press release are consistent with SPE guidelines. SPE/WPC/AAPG/SPEE Petroleum Resource Management System 2007 has been used in preparing this announcement
| | | | | |
| --- | --- | --- | --- | --- |
| TSCF | Trillion Standard Cubic Feet of Gas | | MMBO | Millions of Barrels of Oil |
| MMBOE | Millions of Barrels of Oil Equivalent | | BCF | Billions of Cubic Feet |
| BOPD | Barrels of Oil per Day | | BOEPD | Barrels of Oil Equivalent per Day |
| MMSCFD | Million Standard Cubic Feet per Day | | | |
« Back