« Back
New work commitments on Spanish Point licence in 2011
2 March 2011
1. Appraisal well commitment on Spanish Point discovery
2. 200 km2 3D seismic survey to be acquired in 2011 over additional prospects
3. Positive independent resource audit results for Spanish Point discovery and additional prospects
The Spanish Point partners provide three important updates on their activities across its two frontier exploration licences (FEL 2/04 & FEL 4/08) in the Main Porcupine Basin, circa 200 km off the west coast of Ireland. The partners are Providence (56% and operator), Chrysaor E&P Ireland (30%) and SOSINA Exploration (14%).
1. Spanish Point well commitment
Providence, on behalf of its partners Chrysaor and SOSINA, has formally notified the Irish Department of the Communications, Energy and Natural Resources that they have elected to enter the second phase of FEL 2/04, which contains the Spanish Point gas condensate and Burren oil discoveries. This second phase carries a firm well commitment and will form part of Providence's previously announced multi-year, multi-basin drilling programme offshore Ireland.
2. New 3D seismic survey to be acquired over FEL 4/08
The subsurface evaluation of FEL 4/08 carried out to date has been based on 2D seismic data together with the integration of the mapping into the overall Spanish Point regional model. This work has revealed the presence of a number of new prospective features. Accordingly, the partners have agreed to acquire a new c. 200 km2 3D survey over FEL 4/08 and integrate these data with the recent 2009 Spanish Point 3D survey. It is planned that this survey will be acquired during the summer 2011.
3. New independent CPR completed for FEL 2/04 and FEL 4/08
Senergy, a leading Aberdeen-headquartered energy services company, has carried out a competent persons report (CPR) on the resource potential of FEL 2/04 and FEL 4/08. This study has independently assessed gross un-risked recoverable prospective resources of up to c. 750 MMBOE. This resource potential covers a number of prospects including "Wilde", the newly identified "Cama" prospect as well as the "Burren" oil discovery (up to c. 66 MMBO REC). The CPR also evaluated the contingent resource potential at "Spanish Point" and has attributed gross contingent resources that are in line with the previously reported volumes of up to c. 200 MMBOE REC.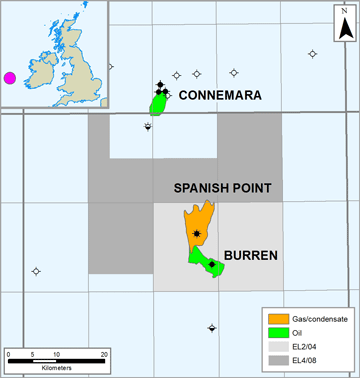 The Spanish Point discovery lies in the Main Porcupine Basin west of Ireland on 400 metre water depth.
The decision to progress the FEL 2/04 licence to the second phase and plan a 3D survey over FEL 4/08 are a consequence of the positive impact that the 2009 3D seismic has had on the partners understanding of the Spanish Point discovery. Therefore the partners have now taken the decision to move into the second phase of the FEL 2/04 licence by committing to a well. The mapping and the associated CPR have highlighted additional resource potential around Spanish Point, both in known discoveries such as Burren, as well as in the newly identified exploration targets in FEL 2/04 and FEL 4/08. The partners believe that the deployment of 3D seismic technology will again add similar value to the adjacent FEL 4/08 area and help to advance it to a drill ready stage.
Contacts:

Dr. David J. Davies

Managing Director, CEO

Sosina Exploration Ltd

1 Berry St

Aberdeen AB25 1HF

Tel: +44 01224 845472
Mob: +44 (0)7703 293 649

Mr. John Ødegaard,

Chairman of the Board

Tel: +45 35 31 10 03

Mobile: +45 27 26 00 03
About Spanish Point
The Spanish Point gas condensate discovery was made by Philips Petroleum in 1981 with the drilling of the 35/8-2 well. Oil and gas were found in Upper Jurassic Volgian sands with one zone flowing at c. 5 MMSCFD and c. 1000 BOPD (c. 1800 BOEPD). The discovery was not appraised due to lack of gas infrastructure and market in Ireland at the time. In 2004, Providence/SOSINA licensed the discovery and following in depth subsurface and pre-development studies, Chrysaor farmed in during 2008 by agreeing to fund a c. 300 sq km 3D seismic survey, which was acquired in 2009. Evaluation of these data has confirmed a resource level of up to c. 510 MMBOE with c. 200 MMBOE recoverable. Peak production rates have been modelled at over 70,000 BOEPD and planning has commenced for an appraisal drilling programme.
Glossary of terms used
| | | | | |
| --- | --- | --- | --- | --- |
| BOPD: | Barrels of Oil per Day | | MMBOE: | Millions of Barrels of Oil Equivalent |
| BOEPD: | Barrels of Oil Equivalent per Day | | MMSCFD: | Million Standard Cubic Feet per Day |
« Back